Preferred Name
The University of Mississippi recognizes that some employees may desire an alternative name (nickname) by which they are addressed.  This name could be slightly different from your legal name or a name that you are most commonly referred.  For this reason, the University will permit the use of "Preferred Names."  Employees may submit the preferred name through the Employee Self-Service (ESS) portal of myOleMiss.
When indicated by the employee, preferred names will be used in less formal communications and be displayed in the University's online directory, email and myOleMiss.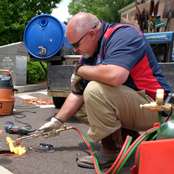 Preferred names will not be used for official University business or on any official documentation submitted by the Department of Human Resources due to legal requirements.  However, whenever reasonably possible, a preferred name will be used.
Preferred names may be used as long as it is not in any form of misrepresentation or fraud.  In addition, the University reserves the right to remove the preferred name if it contains inappropriate or offensive language.  Any removal of inappropriate preferred names will default to the employee's legal name.
Definitions
Legal name:  The name as it appears on a legal document such as a Social Security card or other document in which a legal name change is recorded (e.g. court order).
Preferred name:  The name a person wishes to be known and have appear in the University systems.
Examples
Your legal name is William John Doe. Your preferred name might be Bill Doe.
Your legal name is Mary Katherine Jackson. Your preferred name might be Kat Jackson.
Your legal name is James Scott Robinson. Your preferred name might be Bo Robinson.
Places Where Legal Name will Display
Insurance documents
Payroll and tax forms
Retirement documents
Formal HR correspondence
Places Where Preferred Name Will Display
General documents or correspondence
Online Directory
Email Display
myOleMiss Name Display
Identification card
Training registration
How To Set Preferred Name
Visit ESS through the myOleMiss portal
Select Employee Tab
Under HR Tab: Select Address and Communication Preferences
Click on Preferred Name and Gender Identification
Enter Preferred Name, Preferred Gender and/or Preferred Salutation (e.g. Mr. or Ms.)
How To Change Your Legal Name
Request that your department head submit an E-Form 3 (Change of Status Form)
Under Form Section: Select Change In Name
Enter your new legal name and route form through the appropriate approval channels
Bring legal proof of your preferred change(s) to the Department of Human Resources (e.g. Social Security card or court documentation)
An updated Form I-9 must be processed by HR for any legal name changes